In modern architecture it has been said that luxury can be defined by light and space. Therefore, it stands to reason you would want to maximise both of these factors in your home, and internal sliding doors are a wonderful way to achieve this. Sliding doors can help to create a feeling of flow through your home, assist you in making the most of your space, and offer a way to introduce an element of personality to a room.
1. Creates an Open Space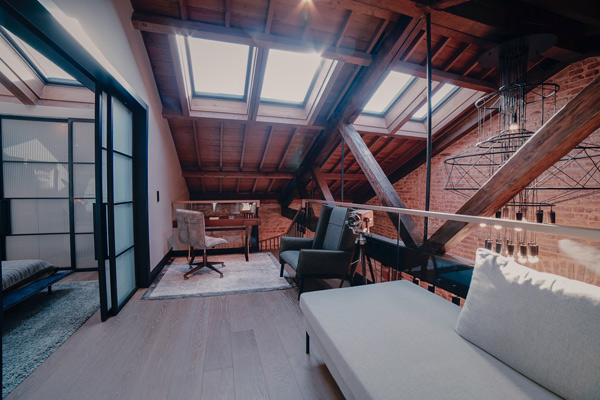 For over 3,000 years people have been striving to create a sense of flow through spaces. The entire focus of the ancient discipline of Feng Shui is to make architectural decisions that direct the flow of energy through rooms in order to achieve balance. Now, whether you subscribe to the teachings of Feng Shui or not, it is hard to argue that cultivating a natural sense of flow between spaces is highly desirable, and the pursuit of this can be seen in the modern architecture today.
Internal sliding doors offer a way to create this state of flow between rooms. They can open and close without swinging into a room like standard hinged doors, which has the effect of opening up these spaces without impeding flow. The wider the opening in the door frame, the greater this sense of flow that can be achieved.
In the example above the bedroom is separated from the landing and stairs by a sliding door. These would normally be two distinct rooms, however there is instead the ability to essentially turn these two spaces into one. By removing the clear point of separation you create the illusion of one larger room, while still maintaining the ability to close the bedroom off at night. This is particularly effective when using floor to ceiling doors, which end up behaving like walls that can be removed and reinstated at will.
2. Maximises Natural Lighting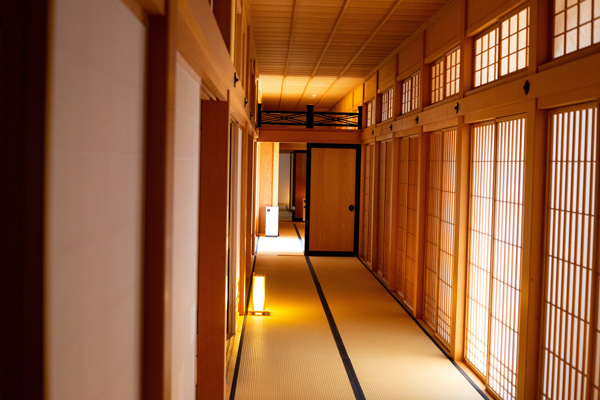 Where it's apparent that sliding doors can contribute to the sense of flow by effectively utilising space, they also allow you to create division between two rooms without entirely blocking the passage of light.
Since they do not need to stand up to the elements like external doors, internal sliding doors can be made with less sturdy materials like light frosted glass, or even paper. Paper Shoji doors like those in the above image have been popular in Japanese architecture for generations, and for good reason. The use of paper as the primary material of the sliding doors means that natural light is able to pass between rooms, even when the doors are closed.
In a modern context this allows for rooms to be separated without one missing out on the natural light pouring into the other. This is great, for example, between kitchen and dining rooms. At meal time you can use a sliding frosted glass door to hide away the kitchen (and the pile of dishes you just made) while still enjoying the natural light that shines in through the glass.
3. Maximises Limited Space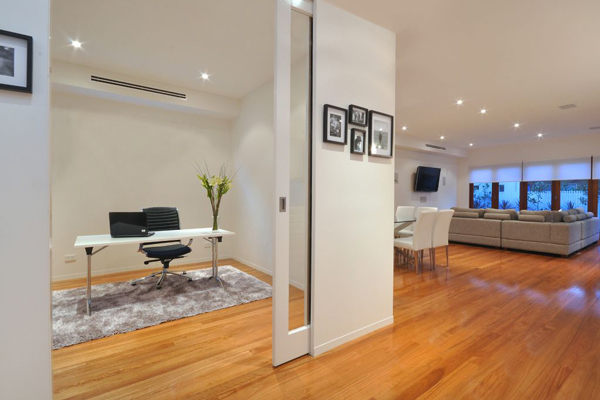 When you have a small room in your home, the last thing you want to do is further reduce the useable space by introducing the swinging arc of a hinged door. What could otherwise be a useless and cramped spot could be turned into a functional space by use of an internal sliding door.
The above example shows a small room that has been converted into a study. This study has very limited space and if the door were to swing inward it would substantially reduce this space, and also limit the ability to move easily through the room. The use of a pocket (cavity) sliding door allows for all of the space in the room to be utilised, and a very functional study to be created. Since they are using glass doors, they are able to close the door and block out sound, while not feeling cut off from the rest of the house or missing out on the abundance of natural light.
Hidden sliding doors like this are perfect for many small rooms such as wardrobes, ensuites, laundries and bathrooms where having a door open into the room could severely impact the available space, and even have an unwanted bearing on where furnishings and amenities can be placed in the room.
4. Versatile and Functional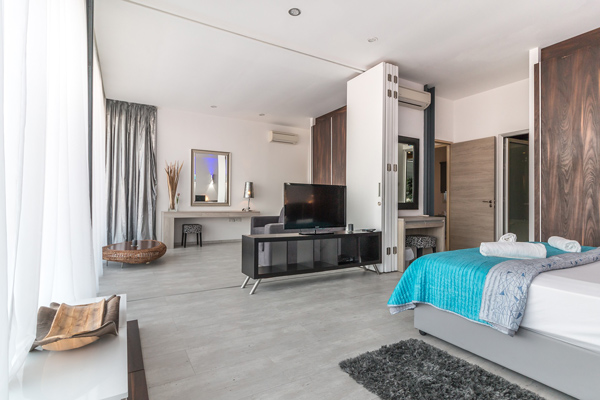 The option to have a room separated either into two distinct spaces, or one larger space has been made possible by large sliding doors like the bi-fold door in the above picture. With this comes the flexibility to create much more functional spaces that are appropriate for many applications.
The large bedroom sliding door in the above example allows this room to be configured as either one large guest suite, or two smaller rooms, with the change being able to be made in moments. This flexibility increases the functionality of the room, and means it can be put to use in various ways as circumstances change.
Furthermore, as open-plan living becomes increasingly popular, the ability to separate rooms still offers significant utility. Being able to split an open-plan living space into various sections means you can have dinner with your friends while the kids watch a movie, a luxury which would not be possible without a large sliding door as a room divider.
5. Many Different Styles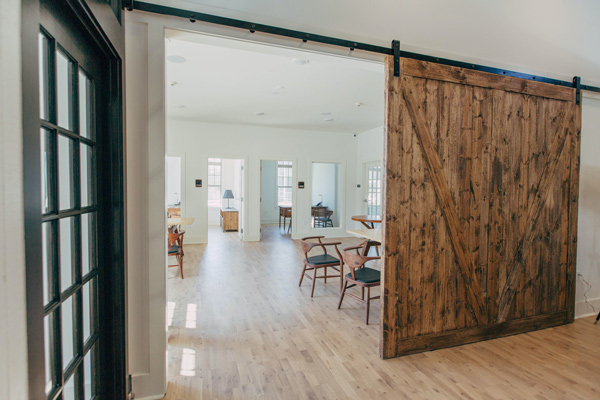 For those who are not interested in efficiencies and flow, but would rather make a bold stylistic choice, you're in luck as internal sliding doors can be perfect for you too. There are many styles of internal sliding doors which can be used to create a particular style in your home. The aforementioned Japanese paper Shoji doors are great for creating a gentle and traditional style, whereas sleek pocket and bi-fold doors are more suited to a modern aesthetic.
Despite the many options, the clear favourite in recent times when it comes to a bold stylistic choice is the sliding barn door. Whether new or reclaimed, barn doors have a very particular aesthetic which is popular with many homeowners. These lend a rustic and industrial feel to a space, and are very commonly found in rural properties or homes where the owner is looking to bring a touch of vintage appeal into a modern setting.
In the example above, the owners have repurposed an old barn door to slide between the living and dining rooms. Even when it is open, this door lends a very clear style to the room, helped by the exposed roller mechanism.
Whatever the aesthetic you're striving to create, sliding doors can help to improve and make the most of any room in your home. If you're building a new home or renovating your current house, keep an eye out for where an internal sliding door can work for you. And once you have chosen a sliding door that best suits your needs, read our blog on how to clean a sliding glass door to learn how you can keep them clean and maintained to avoid future problems.